Skip to Main Content
It looks like you're using Internet Explorer 11 or older. This website works best with modern browsers such as the latest versions of Chrome, Firefox, Safari, and Edge. If you continue with this browser, you may see unexpected results.
Further help and information
Morag Llewellyn, our UHI open access compliance officer, is here to help.
E: openaccess@uhi.ac.uk
The UHI research webpages also provide a wealth of information on open access publishing.
What is Open Access?
The broad concept of Open Access (OA) publishing is to make the outputs of publicly funded research freely available, in a digital format, to anyone without restriction. This suite of guidance materials aims to provide information on the legal requirements plus processes and policies stipulated by the University of the Highlands and Islands, to ensure that its researchers are compliant.
Image courtesy of the J. Murrey Atkins Library at UNC Charlotte
Benefits of Open Access to Researchers
Making your work open access can help make sure:
Your work is read more

Your work is cited more

Your work has more impact

Other researchers can find and build on your work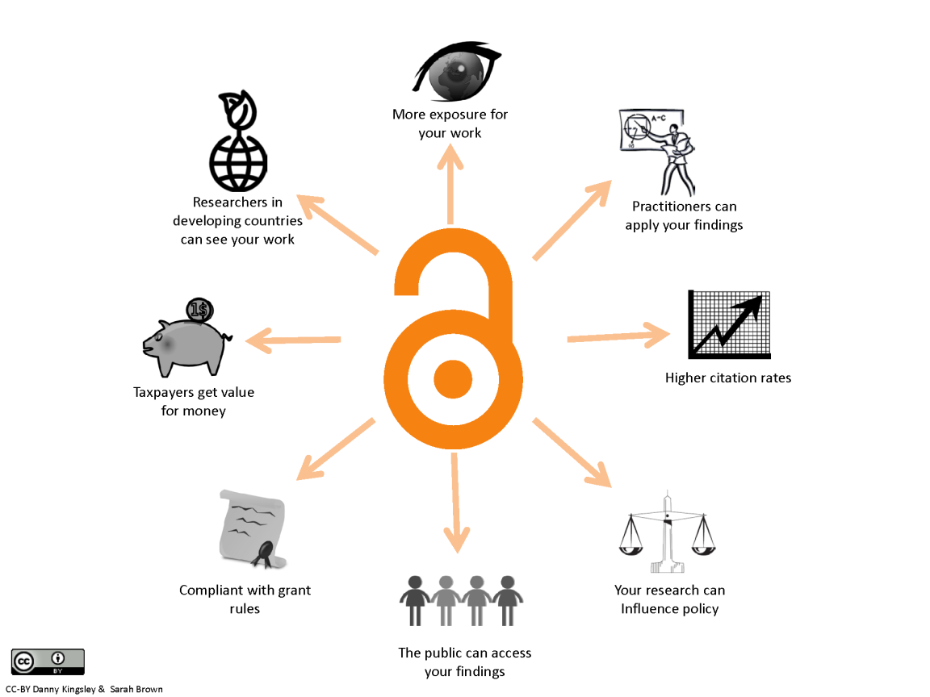 Why is Open Access important to the research community? (video)
Researchers can benefit greatly through Open Access publishing. Short video (2:56 minutes) courtesy of UCL open access team where researchers discuss the advantages of OA.
Green and Gold Open Access
There are two complementary mechanisms for achieving open access to research.
The first mechanism is for authors to publish in open-access journals that do not receive income through reader subscriptions.
The second is for authors to deposit their refereed journal article in an open electronic archive.
These two mechanisms are often called the 'gold' and 'green' routes to open access:
Gold – This means publishing in a way that allows immediate access to everyone electronically and free of charge. Publishers can recoup their costs through a number of mechanisms, including through payments from authors called article processing charges (APCs), or through advertising, donations or other subsidies.
Green – This means depositing the final peer-reviewed research output in an electronic archive called a repository. Repositories can be run by the researcher's institution, but shared or subject repositories are also commonly used. Access to the research output can be granted either immediately or after an agreed embargo period.
Image from Thoughts by Kevin Irikefe - Free for all: Open Access
Hybrid Journals
This is a journal that makes content available via a mixture of traditional subscription-based publishing and open access. Some individual articles are available open access, as a result of an article processing charge (APC) having been paid, and the rest require a subscription to the journal in order to be accessed.